If you know me, you know that I'm obsessed with QVC.  Yes, yes, I know, what the heck!?!  Here's why….
Back in 2007 when the twins were born, I'd be up intermittently A.L.L N.I.G.H.T L.O.N.G. breastfeeding those tiny munchkins.  Here's the thing- All the parenting books I'd read pre-babies said that during middle of the night feedings you should keep the lights low and the room calm. That way when you were finished you could get back to sleep faster.  I had no problem whatsoever going back to sleep…to the point i'd jolt awake almost dropping them!  It was staying awake while nursing that was the problem.  I wish I had the cajones to post a tandem nursing shot right here.  There's one my sister took from above and man, is it 'burn in your mind' shocking… Giant mounds with tiny heads smashed against them and beady little eyes piercing through the lens.  I'll spare you the photo.  Anyways, I digress.  QVC….
I tried watching TV to keep me awake…but even after finishing nursing, I'd have to stay up because reruns of 'Law and Order' get you hooked!  Or I'd get stuck on those forensic shows.  I'd have to stay up to find out whodunit!  So while flipping through channels one night I stumbled upon the glory that is my sweet QVC.  There's no cliffhanger you need to wait up for, no delicious recipe you have to see come to fruition, or wait for the details of how that body could have possibly ended up naked and draped on a treetop.  NO- You can tune in and feel satisfied tuning out at any point.  Guilt free…nightmare free.
So a slap happy Jonny and I would wake up and watch some QVC every night.  We got amazing at ad-libbing along with an endless amount of sales pitches on each item.  Those nights were spent laughing hysterically until my c-section scar hurt!  I could even go so far as to say that QVC probably kept my short tempered, not slept tude in check which, who knows, could have down the line saved my marriage.  Thank you QVC!  XOXO
Those people can make anything look good.  "Just think of that co-worker you could give this to, sister-in-law, kids teacher, sensei."  "This could benefit everyone in your life!"  "Every member of your family needs this life saving device"  "buy it in more than one color!  You'll love the fit THAT much!" "Buy more, save more!!!"  "The price is steep, but with easy pay you're wallet will barely feel it!!"  The more you watch it, the more entertaining!   It gets funnier and funnier.
Flash forward to July 2013.  We were on tour and Lilou was brand new…. Jonny found a delirious me, at 4am, in the back lounge bed on the tourbus, baby nursing in one arm and my phone in the other.  I was buying a QVC ham for our Thanksgiving dinner four months away!   HAHAHAHAHA  No shame.  That thing was frickin amazing.  I served it in my, QVC bought, Temptation cookware to boot!  He thought I was so ridiculous, he tweeted about it, tagged QVC and got a response!  It was one of the most exciting moments of my life.
If you haven't watched it, you need to tune into my favorite QVC show "In The Kitchen With David".  This man is basically family at this point.  He's been there with me at all hours helping me take care of every single one of my babies.  When answering the age old "who's your dream dinner companion?"…most people would say the Pope, President, Mick Jagger.   I'd say my sweet, Prince of the "happy dance" David!  He can make me buy ANYTHING, that jolly hypnotist!  Jonny and I have even written a song about him.  It's a love ballad entitled "Dance like David Danced".  We always say we will film our own music video for him and his darling co-host Mary.  We shall pull the tourbus up to the studio and deliver it them personally.  While there, my dreams say, I will instantly be hired as a host.  We will need to move to Pennsylvania and I will live out my life selling amazing things to all.  I'd enjoy the snow and lush greenery.
Wow!  This post was meant to be about a single purchase but my passion had to include some backstory!  So the real post starts here…
In July of 2016, while nursing yet another, factory line Langseth baby, I was up with my tried and true late night TV concubine David, who is always in that sexy kitchen.  The TSV (which for all you losers not in the QVC know… means "today's special value" hahahaha.) was an artificial flocked Christmas tree.  I'm a sucker for 'Christmas in July'.  It always excites my pale, boiling in the sun,  longing for fall, body.  Anyways, I'd never had a fake tree and this little white tipped number did me in.  Yes I bought it.  Yes I had my first fake tree Christmas 2016 and YES I love it so much I'm not taking it down!  I'm gonna keep it up the whole damn year!
Every holiday, obscure and otherwise is going to be celebrated with this tree.  It has remote controlled LED lights that I can make any solid color or combination.  So I'm already decorated for Valentines Day.  Red lights blaring 24/7.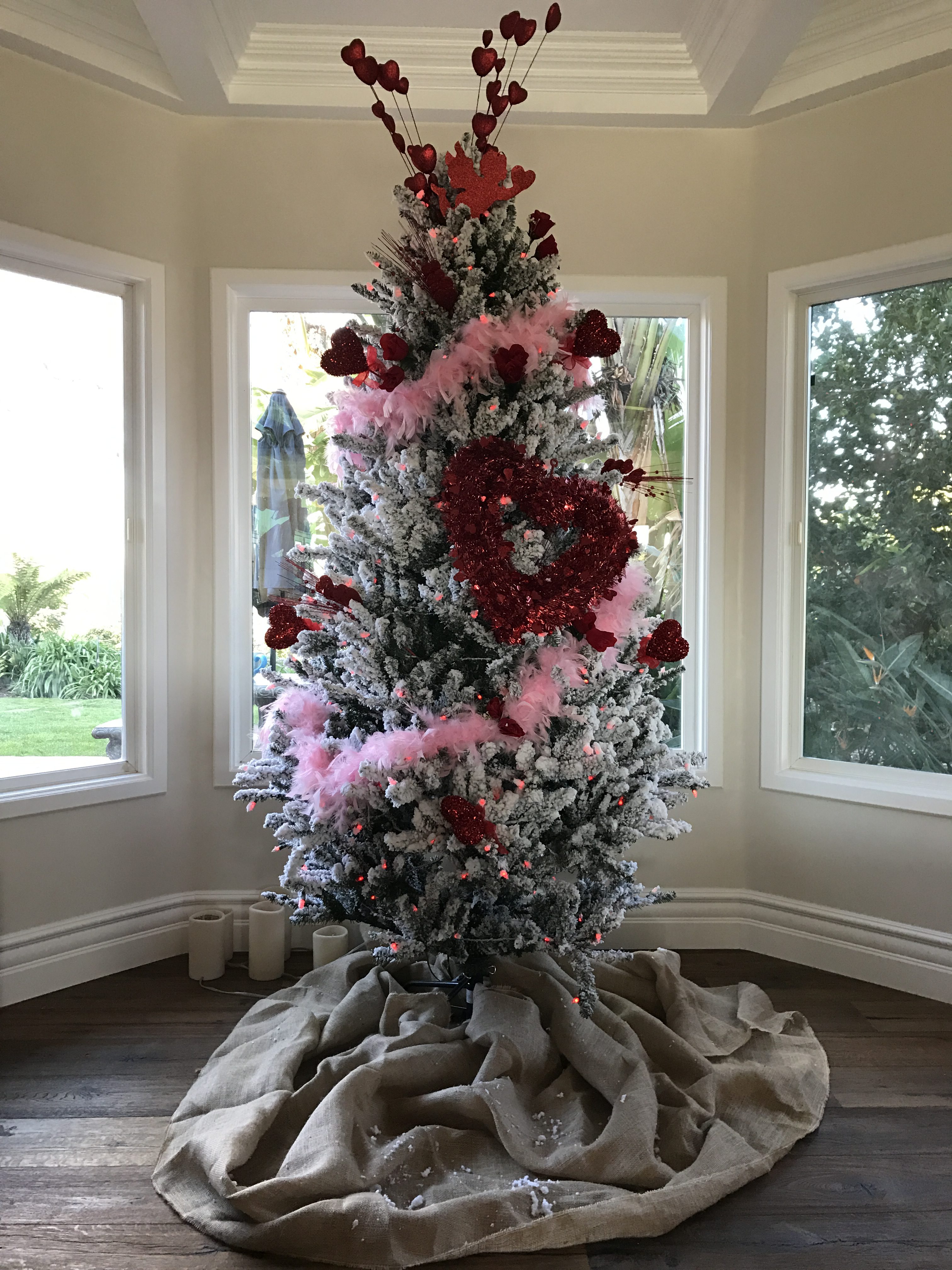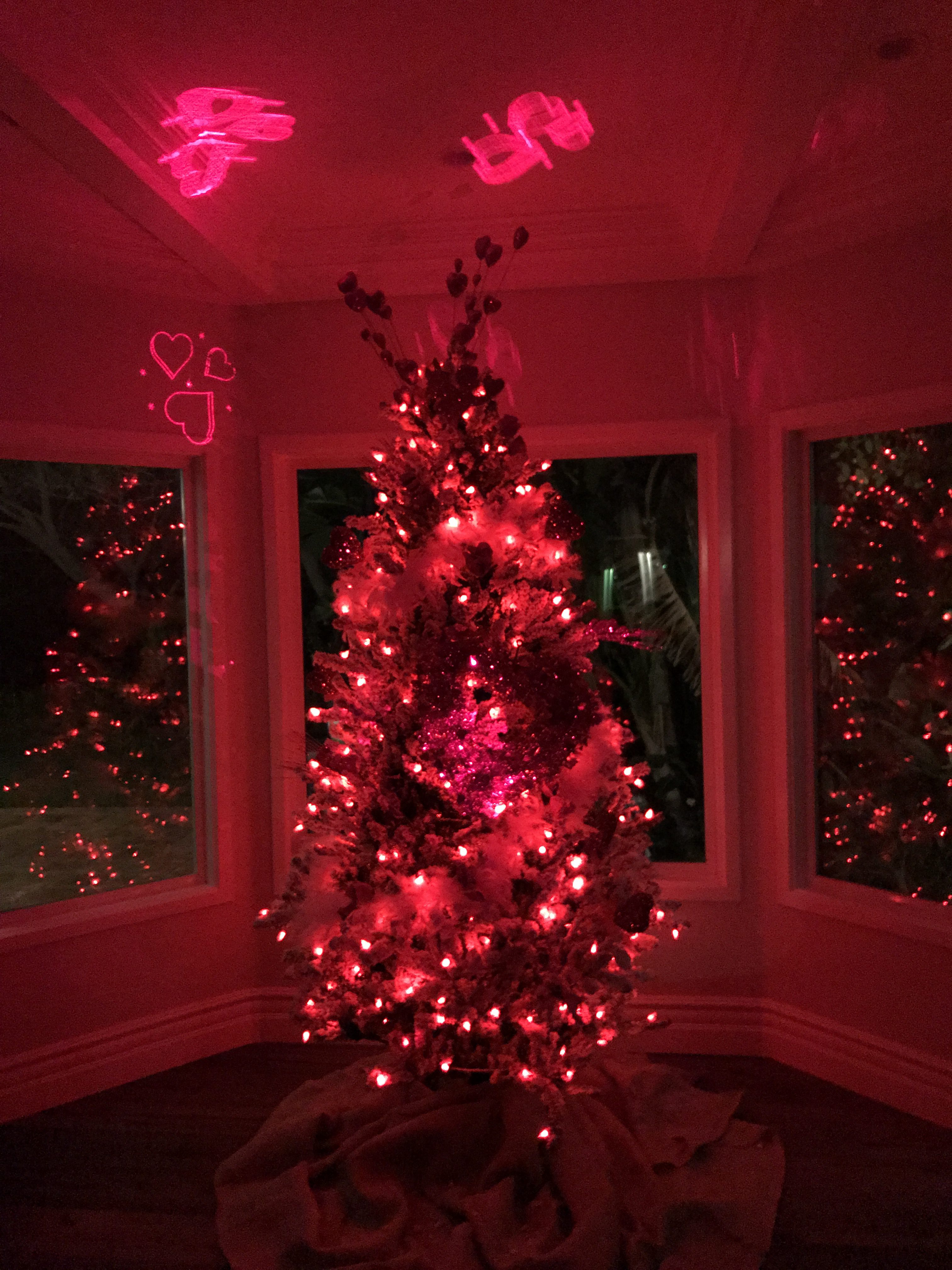 I've always wanted to be one of those put together moms that decorates throughout the year for every holiday.  Those are things kids remember.  But I hate the mess and the work of cleaning up crap from all over your house seems overwhelming.  Enter, single decorated area, yet big bang for your buck tree.  It's already making me feel like I'm mommin' it hardcore.
Please suggest holidays that I might not know about.  I'd love to have a completely random tree here and there.  Even if no one sees it, I'll laugh every time I pass it!!  Then I'll yearn for the moment one of the kids tells a stranger something like "We are looking for a topper for our 'Festival Of Sleep' Tree!  It's so peaceful".  I then can look at said stranger like "What?  Your family doesn't honor that holiday?!"  Perhaps I'll use this occasion for the much underused blue and white light 'Hanukkah setting'.  (Yes, I read that Festival of Sleep is actually a holiday.)
Who's with me?  Join me in this insanity.  Get that fake ugly tree back out.  It will bring joy to your children, mother-in-law, street cleaner, neighborhood gossip.  Years from now you'll say "Man, I wish I had been on the forefront of the year round tree craze."